Ну мы, блин, даем: широкие скидки сезона
Любой курс от 2990 руб. Только до 29 февраля.
8 800 505-00-85, +7 495 109-0-600
The first english course of our school. Look at here!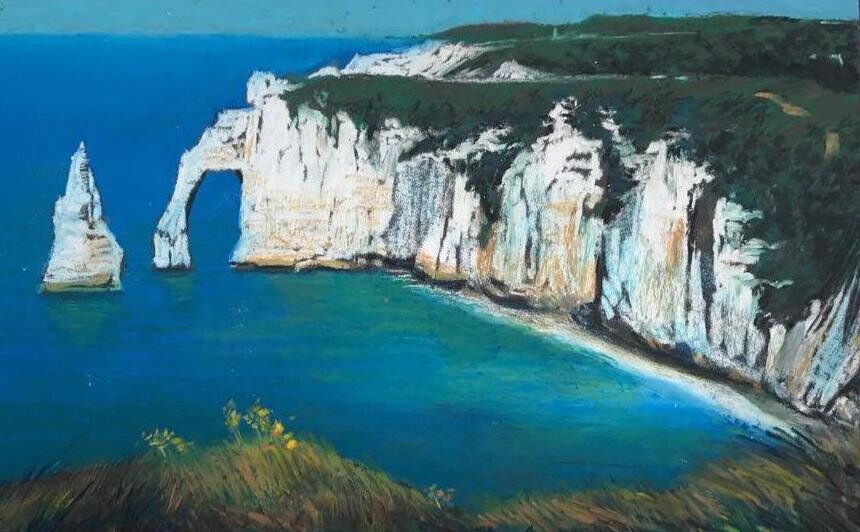 Нас очень часто спрашивают, когда же будут онлайн-уроки по масляной пастели? И вот мы наконец-то отвечаем — они уже есть :)
Встречайте новый блок мини-курсов по масляной пастели c Евгенией Мельниковой!
Масляная пастель — это удивительный материал, который позволяет добиться максимально ярких и сочных цветов в работе.
В этом материале интересно все, даже история создания.
Так, еще в начале XX века появилась рецептура высококачественных мелков для детского творчества и больше ничего от материала не требовалось. Но в 1949 году художники Генри Гетц и Пабло Пикассо предложили Генри Сеннелье (фирма-производитель художественных товаров Sennelier) создать профессиональную версию этого детского материала. У каждого художника были свои пожелания. Пикассо было важно получить цветную пастель, которой можно было бы рисовать по любой поверхности: бумаге, холсту, дереву, камню, металлу, стеклу без специальной подготовки основы. Генри Гетц хотел получить пастель, которой можно было бы делать подмалевок для масляной живописи.
И вот через два года Сеннелье изобрел первую профессиональную масляную пастель. Она имела непривычную кремовую консистенцию и очень сочные, насыщенные цвета.
Чем же хороша масляная пастель?
Работать масляной пастелью надо немного внимательнее, чем обычной. Техника кропотливая, даже медитативная, так как важно очень аккуратно редактировать и дорабатывать каждый слой.
Материал имеет ряд преимуществ перед обычной пастелью:
Практически на любую поверхность масляная пастель ложится ровным плотным слоем;
Хорошо держит цвет (не светлеет и не темнеет со временем);
Ее не надо фиксировать на поверхности, она не осыпается;
Отлично сочетается с дополнительными материалами и позволяет создавать иллюзорный эффект живописи маслом;
Довольно неприхотлива при хранении (но все-таки, не стоит хранить без стекла или без папки — обычная пыль злейший враг масляной пастели);
Доступна по цене.
Для кого эти курсы?
Мини-курсы по масляной пастели подходят всем ученикам. Уметь рисовать не обязательно. В каждом мини-курсе Женя Мельникова дает базовые знания: основы композиции, академического рисунка, линейной перспективы и колористики, и самое главное — классические принципы работы этим необычным материалом. Все буквально до мельчайших деталей рассказано и показано. На мини-курсах по масляной пастели освоить азы рисования не составит никакого труда.
Блок по масляной пастели состоит из 4 мини-курсов.
Обращаем ваше внимание, что их важно проходить в строго определенном порядке:

1. «Солнечная лилия»
Это первый и самый важных из уроков в группе мини-курсов по масляной пастели. Мы проходим все: от основ академического рисунка, через замеры пропорций и определение углов наклона оси, до компоновки предмета на листе — это база необходимых знаний. Учимся работать в реалистичной технике, изучаем теорию цвета и скрупулезно отрабатываем многослойность.

2. «Белые скалы»
На втором блоке мини-курсов мы осваиваем базовые законы композиции, учимся размещать объекты на листе. Оттачиваем послойную технику работы пастелью. Разбираемся, как можно использовать фактуру абразивной бумаги для передачи текстуры пейзажных компонентов. Отрабатываем штриховку, работаем с цветопередачей и гасим открытые краски. Прорабатываем детали и расставляем контрастные акценты в работе.

3. «Английский сад»
Переходим к экспериментальным техникам. Выполняя эту работу, мы вспоминаем основы композиции, учимся находить интересные детали и выводить их на первый план. Уделяем внимание работе с цветом, учимся подбирать оттенки и собирать их в гармоничную многоцветную картинку. Используя дополнительные материалы, вводим в рисунок новые эффекты, создаем размытые контуры и плавные переходы цветов.

4. «Венецианские улицы»
Четвертый мини-курс — чистый эксперимент в смешанной технике. Вспоминаем азы линейной перспективы, стараемся соблюдать гармоничные архитектурные пропорции построек. Буквально парой штрихов создаем быстрый контурный скетч, а после точечно добавляем цвет. Работаем в смешанной технике — добавляем акварельные заливки для создания ярких цветовых пятен, обыгрываем и детализируем их в рисунке.
Порядок мини-курсов очень важен: из урока в урок мы двигаемся от классических приемов работы масляной пастелью до экспериментальных смешанных техник. На каждом последующем этапе мы закрепляем знания из предыдущего урока и осваиваем новые приемы.