8 800 505-00-85, +7 495 109-0-600
The first english course of our school. Look at here!
Ботаническая иллюстрация — это не только пышные розы, яркие васильки и резные листья кленов. Наша преподавательница Ксения Галицкая подготовила мастер-класс, героем которого стала... кукуруза!
Мастер ботанической иллюстрации подробно рассказывает, каким нюансам уделить особенное внимание, объясняет, какие краски выбрать для изображения кукурузного початка, и даже напоминает, когда нужно поменять воду. Передаем слово Ксении :)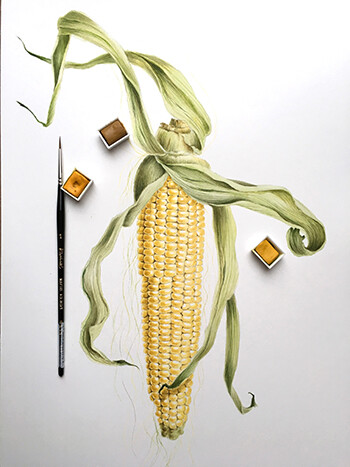 Для ботанической иллюстрации рисунок очень важен. Нужно постараться повторить все изгибы, заломы, зернышки оригинального початка кукурузы, тогда будет гораздо легче работать над заливкой цветом. На этом этапе проявите максимум собранности и внимательности.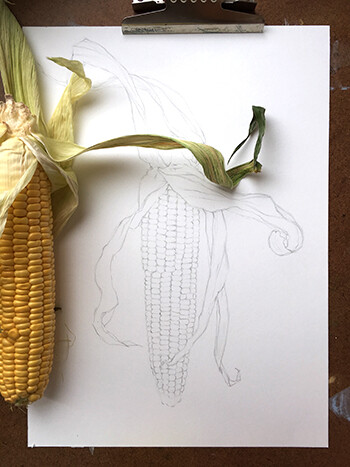 Шаг 2. Подбор цветовой палитры
Для нашего рисунка понадобится такой набор красок: Cadmium Yellow Pale Hue, Cadmium Yellow Hue, Permanent Sap Green, Yellow Ochre, Burnt Umber (все WN), Оливковая и Зеленая (НП).
Шаг 3. Листья на початке — заливка
Начните с верхних листьев. Увлажните бумагу в этой части. Заранее смешайте оттенки зеленого, чтобы успеть добавить их на лист до того, как бумага станет сухой.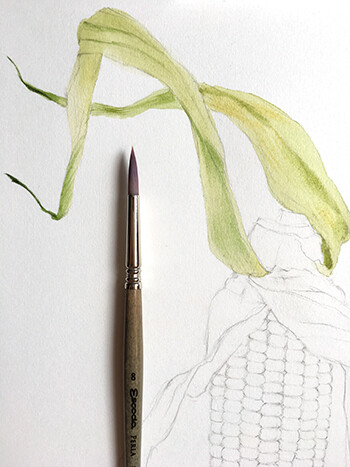 Для заливки листьев понадобится средняя кисть. Я в данном случае использовала кисть № 8, Escoda Perla.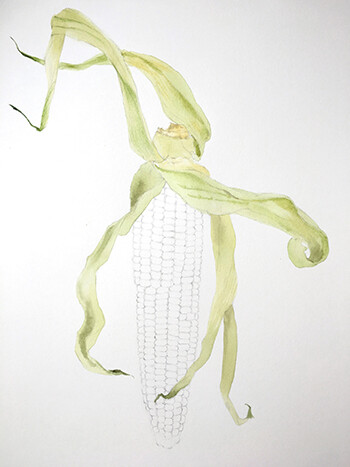 На этом этапе обязательно поменяйте воду! А после — займитесь подбором нужного цвета для зерен :)
Используйте кисть № 2 (колонок). В одно зернышко капнем подготовленный заранее желтый. Помните, что нужно оставить белой область блика. Так поступайте с каждым зернышком: желтая основа и оставленная область блика без краски.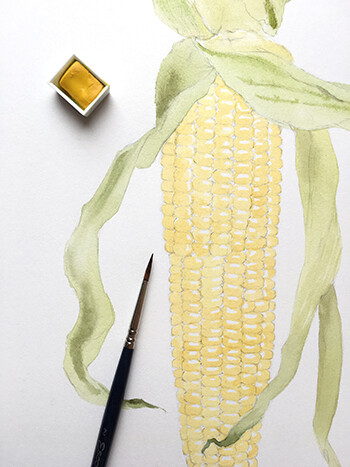 Если блики покажутся вам грубыми и нереалистичными, размойте их края влажной, но хорошо отжатой кистью (плоская синтетика № 3 или № 4). Сначала работаем с одним цветом. Затем зерна делаем плотнее и насыщеннее. Для этого берем более плотную краску, но оттенок оставляем тот же.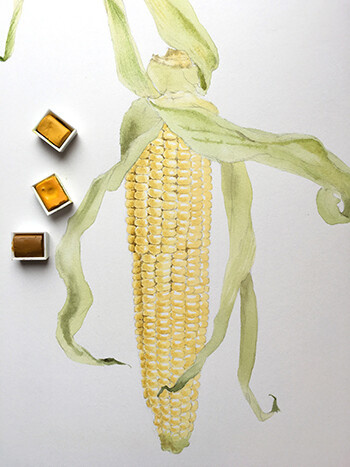 И не забываем о рефлексах! В каждом зерне края должны быть чуть-чуть светлее. Кистью колонок № 1 проработайте пространство между зернами. Понадобятся краска умбра+желтая охра.
Таким образом, шаг «кукурузные зерна» условно можно разделить на 4 этапа: желтые кукурузные зерна с не закрашенными бликами, насыщение зерен цветом, частичная размывка краев бликов и наконец проработка пространства между зернышками.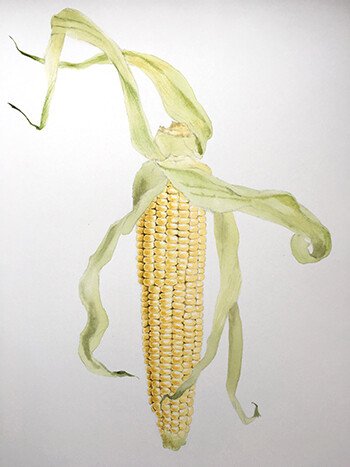 Шаг 5. Детализация листьев
Переходим к детализации листьев на початке. Смешиваем оттенки зеленого и колонком № 1 делаем большое количество прожилок.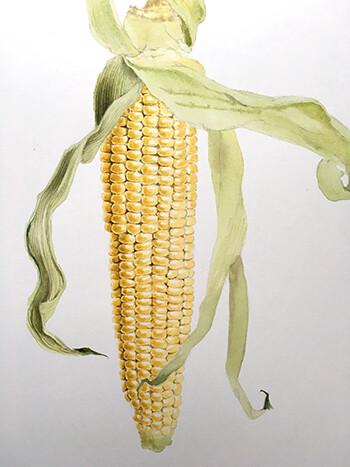 Повторяем все, что видим на оригинале. Не забываем про свет и тень. Когда листья будут готовы, добавим шелковистые волокна — кукурузные рыльца.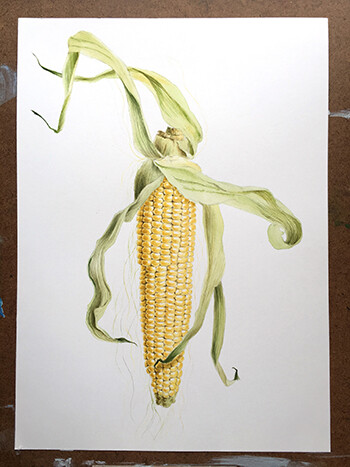 На этом все, наша кукуруза готова!
Осваивайте ботаническую иллюстрацию с нами. И не забудьте делиться фотографиями своей работы в комментариях или в социальных сетях с хэштегом #kalachevaschool ;)